Interstate Rock Products
General Engineering Contractor Since 1953
With IRP, you get over a half-century of experience and a binding contract based on a good handshake.

Construction & Engineering
IRP is a full service general engineering contractor. We have extensive background in Street, Road, and Highway Construction, as well as water and sewer transmission lines, and treatment facilities. We have been a prime contractor on new and reconstructed of bridges.

Ready Mix Concrete
We have permanent batch plants providing top grade material in St. George Utah, Hurricane Utah, and Fredonia Arizona. We also have portable batch plants that help us provide concrete in remote areas.

Gravel Pits
Each year our Hurricane and La Verkin Utah gravel pits produce more than 500,000 tons of aggregate material used in southern utah by private and government entities.

Asphalt
Our asphalt products are continuously tested by trained technicians to ensure that each batch meets or exceeds all specifications.
Since we control the sources and quality of aggregates and liquid asphalt cement, each batch is set-up to safely produce hot-mix asphalt to the highest quality possible. We also have Southern Utah's premier laydown crew which has received multiple awards and recognitions.

Development
There are exciting changes happening to Hurricane and IRP wants to help in a steady, responsible growth that is the best for the land and the community.

Pre-Cast
Over time, you've come to expect a lot out of retaining walls. Redi-Rock is an engineered retaining wall system that looks great, is easy to install, and will stand the test of time.
Interstate Rock Products began in 1953 as Stratton Brothers Construction Company. In 1981, Stratton Brothers Construction reorganized into Interstate Rock Products, Inc. creating an entity that has been performing construction work for over 60 years. The work experience of the current owners and managers of Interstate Rock span almost 5 decades and have produced expertise in a wide range of projects. This website shows the types of construction projects IRP has done and hopefully instills confidence in our ability to bid and perform work at any level of difficulty or specification a project may have.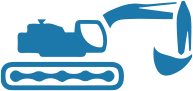 General Engineering Contractor:
We are licensed as a General Engineering Contractor in Utah, Nevada, and Arizona. We are also licensed in the State of Utah as a General Building Contractor.

Materials Divisions:
Our Ready Mix Division offers the highest quality concrete meeting the most stringent specifications including those required by UDOT, Federal Government projects, and other municipality specs.

Other IRP Products and Services:
We offer a full range of development services that include both residential and commercial.

"Best construction Company in southern Utah"

"Amazing customer service! Great cement, good people to have deliver your mud"
Over the years we have completed a lot of projects.